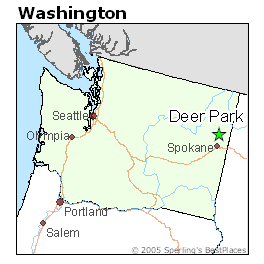 Just north of Spokane is a little town called Deer Park, and on a recent rainy day, I got to drive there with some friends. The drive was so pretty. Our destination was to be a little cafe/coffee shop that we had just heard about, called the Classic. It is located at 502 S. Main Street.
The place was packed, but not at first. Apparently, a lot of folks thought it was a nice spot to visit on a rainy day. They have both indoor and outdoor seating and a drive-thru window.
At the Classic Cafe, they serve breakfast, ice cream, sandwiches of all kinds, soup and coffee/espresso type of things. In addition, there are lots of flavors for shakes and Italian sodas too.
Some of us in my group of four had lunch.
This is chili... served with these really interesting "garlic rounds."
Two of us shared a spinach Greek Wrap. Yum!
Here is only half.
Wraps are served with chips and a pickle, though I read in the menu that you can substitute a small salad for the chips if you'd like. This wrap was delicious.
We also had coffee, (no photo) and we sampled some treats which we shared.
Below you see the Monkey Bread and an Espresso Brownie.
See the t-shirts on the wall? Apparently, they make a humongous breakfast platter that they challenge individuals to "master," and whereupon mastering you are entitled to flaunt the feat with a T-shirt. Our lovely waitress informed us that she had tried it once, and only once.... because it was really really big, but she did it!